Covid 19 has resulted in colleges and universities facing steep decline in student enrollment across the globe. As a result, the education ecosystem has changed dramatically. Universities and college campuses are no longer brimming with learners. In addition, with over 1.2 billion children out of the classroom, education officials are laying more emphasis on remote learning, giving an unprecedented rise to e-learning methodology.
Almost after 1.5 years of the enraged infection rates, the world finally seems to be getting back on track with universities hoping to resume courses and welcome students on campus. In response to significant demand, nations are encouraging institutions to adopt online learning platforms. However, even before the pandemic hit the globe, the education sector adopted technology with a higher growth rate. 
According to Markets.BusinessInsider, the global Edtech investments reached $18.66 billion in 2019 in the United States, and the overall market for online education is projected to reach $350 Billion by 2025. 
While college campuses re-open, universities are expecting student enrollment to accelerate. At present, the biggest concern for the education sector is to foresee the percentage of international students amidst travel restrictions. 
As vaccines are administered and college campuses look forward to a return to normalcy –universities must brace up new means of increasing student engagement ideas post covid-19. 
Let's dig into the new expected trends and see how universities can increase the student engagement post-pandemic and adjust to ensure they are offering relevant services/products delivering the right messages.
1. Offer Online Learning to Enhance Student Engagement.
The best instrument in retaining students during a time when the situation seems to be stabilizing is by offering admittance to learning through online courses. More than 30 states in the US assessed their program structure back in 2020 and moved offline instructions to online instructions. 
Universities can conduct survey programs to ask students their preferred means of course completion. Institutions will need to create robust systems that include all students to participate. You can start by building a student mailing list to conduct the survey. 
2. Inform Best Safety Practices Post Covid On Campus.
With online learning being the new way to study, Universities should know that in-person campus study can be expected to begin soon. Thus, students need to be ensured that the campuses adopt all safety measures to protect the students and their staff.
While Covid-19 is still a risk for university faculty over 50-60, students face moderately low danger. Anyway, as of late, we have observed how rapidly the virus can spread in regions with a high concentration of people – and college grounds are no exemption. 
University administrations ought to attempt straightforward measures to forestall the spread of the illness on their grounds. This will incorporate guiding students on the relevant conventions for hand washing, covering face while sneezing, and social distancing. 
College infographic mails can pass this information based on the college students mailing list & data that comprises names of the students enrolled in the courses. 
To help mitigate the growing risk of infection, educators should also be aware of students who have traveled extensively during the past weeks and remind those who have been abroad in heavily affected places to be mindful about returning to campus.
College campuses yet to open can learn from steps already taken by other universities. Eastern Illinois University has been communicating to its students via emails regarding Covid-19. The below is an archived email that the EIU sent to its students on Feb.1. 2021 to update about the University's ongoing COVID testing efforts. 
Such measures ensure student's trust in the university.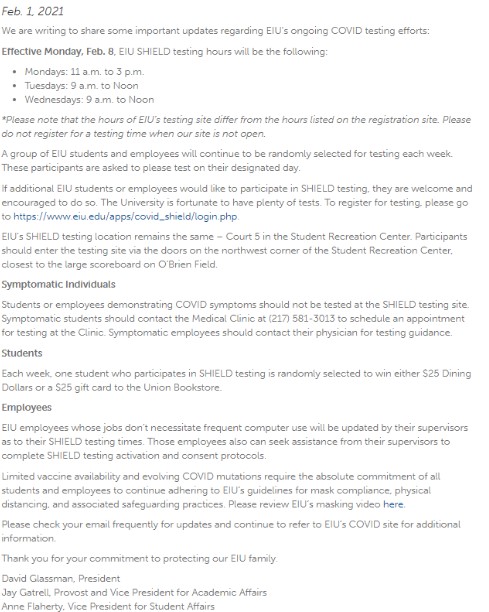 3. Student Support Engagement is more Crucial Post Covid-19.
As a rule, standard and regular communication with students and instructors are generally most valuable. But given the critical situation, the dependency on the internet is rising. A recent study discovered that while students most esteemed 'the quality and practicality of instructors in the physical type of learning, many associations are forced to stick to online resources. 
In addition, the universities must ensure to drive student support programs for effective communication in covid-19. For example, Princeton University's Covid Dashboard keeps students updated regarding the campus risk status. The institution also announced its fall outlook with its plan to resume in-person operations.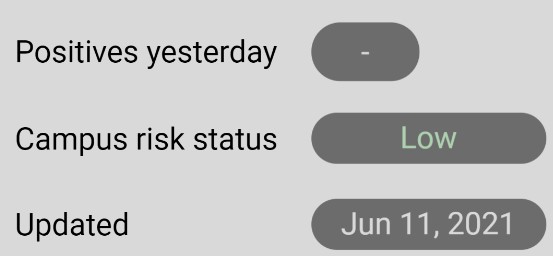 Image Source-Princeton University Covid Dashboard   
4. Organize Virtual Concerts 
In the light of optimism, many universities are opting to host live artistic performances and cultural programs to engage their students. As the cases are yet to fall under the limit, colleges need to maintain student engagement using more virtual help. 
Misericordia University set up an event page to host their flagship Annual Homecoming event. The Alumni Relations Teams undertook the task's responsibility to transition the traditional homecoming weekend to a long virtual event. The entire schedule was planned and sent to hundreds of enrolled candidates using student data lists with registration details and schedule details. 
Conclusion 
Returning to everyday lives depends on achieving high vaccination rates. With nations striving to ensure vaccination as the foundation for a safe campus environment, campuses are planning to lift the residential programs for the fall. At the same time, universities must not forget that the hope of returning to normalcy must be based on informing every student properly to follow essential protocols strictly in most areas.