Student marketing can be a perplexing process when students have different requirements at different stages of the admission process to be addressed by institutions equally. Institutions feel the stress to consistently adopt dynamic roles and cater to students's needs with effective management in a time bound manner. 
It is at this point, organizations need to identify campaign ideas that encourage student recruitment. Being a student-centric industry, it is vital for your business to circumscribe your strategies around student well-being. 
Today we are focussing on discussing unique tips for your next student recruitment that will boost your student enrollment and encourage students to interact with you. 
Email Infographics Catch Student Attention Instantly
Infographics can be undoubtedly successful instructive tools given their ability to break down complex processes into simple segments and make even the thickest information flow easily down the student chain. 
Regardless of whether you need to inform your existing students about the following events or send prospective candidates an informative course guide, the visual substance proves to be extremely beneficial for education. 
Why Do Infographics Prove to be Beneficial?
Self-Explanatory

– Living in a heterogenous world, conversations are always open to varying interpretations. Thus, students won't always have somebody to break down the meaning behind your intended message. You need to explain it to students with

speed via digital marketing

and in precise words. Infographics help colleges

enhance student learning by 400%

by creating step-by-step program awareness in a simple, short and crisp way.
Better Communication

– No matter how simple your message is, there is a good chance that students won't be able to remember your written messages. In fact, most individuals just retain 10% of what they hear, while they are able to remember

80% of what they see

. 
According to a report compiled by 3M, visuals are processed 60,000 times faster than text. Visual representation is one of the best ways to harness messages across all platforms equally. 
Today the organizations are looking at a significant uptick in the amount of candidates looking for information through infographics. According to Fast Company- "In the past five years alone, searches for these tools have increased 25 times".
Below inserted is an example of infographics mailing system being practised by Athabasca University as part of their Office 365 program as an online service portal that includes Emailing, Calendar, and OneDrive services being provided for AU students.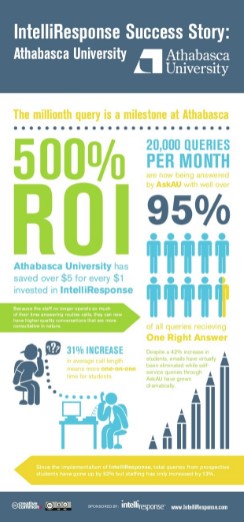 Data Storytelling In Email Is Better Than Words
Stories pique the interests of young minds into applying and decoding challenging information of various domains. The digital innovations have empowered institutes and organizations to ignite the information survival built on storytelling to be incorporated in email marketing. The technique involves using illustrations to transfer the most abstract concepts to the respective student communities.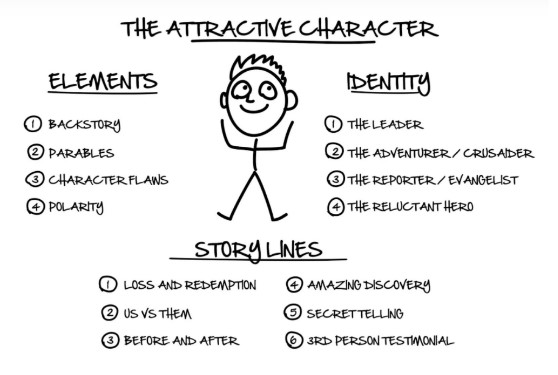 A survey by OneSpot indicates that 92% of US citizens want brands to make their ads feel like a story. On top of that, Statista ranks storytelling as the second most effective approach in email marketing. 
Many of the top universities are changing their ways to attract students to their campus. A recent example laid by Imperial College London, for example, expressed how digital stories help them receive an average of 142% more unique page views and see 50% higher time on page. 
The Western University of Australia published – State of the Mind – in 2015 to compel other competitors that stunning designs can be used to communicate information. 
How to Write a Story-based Email?
Writing effective story-based emails can be a challenging task as the limitation of space makes it impossible to incorporate elements relevant to form a storyline. 
In our experience, here are the most important elements that you need to keep in mind to curate your story-based email that gets you student engagement. 
1. Dashing opening – Use a curiosity driven subject line to begin your email. Do not impose paragraphs. Instead begin with one-liners to hook the students. Keep in mind the format for a caption. End your opening within 30 words. 
2. Attention & Retention with images – Do not emphasize wordiness. Use images right after one-liners. 
3. Stick to structure – You can keep the story as short as possible. Use 3-4 paragraphs of maximum two lines. 
4. Transition into your call-to-action soon- Remember that your story must end soon with an immediate call-to-action. Do not prolong the wait.
5. Include a funny visual element- Use data with funny elements to generate engagement.
Conclusion 
Although, the fact is clear that not every student will be attracted to your messages, and not every student will be eager to display their intentions to enroll in your institution, it is here when Colleges need to construct messages that prompt candidates to gather what information they want.
Leaving a quality impression using a consistent and progressive email strategy using our discussed approach will bring a positive impression of your institute's image. This goes past employing for the work opportunity nearby. Any enrollment effort today should consolidate into future procedures of marketing benefiting your organization.